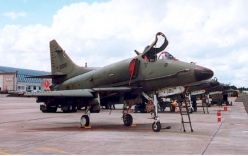 Classic Flyers NZ has been awaiting the arrival of the "Skyhawk" for sometime now. It has been no small task procuring a magnificent piece of New Zealand's Aviation History to take center stage in the Main Aircraft Hangar at 9 Jean Batten Drive. What does it take you may ask to have this type of Event take place?
First ingredient for Skyhawk procurement is
"Passion"
and bucket loads of it. I am new to the world of Aviation but I can tell you for certain that nothing goes on in this world without a ton of passionate individuals behind it. No Passion, no Skyhawk! The Skyhawk would not be coming to Tauranga without a bunch of passionate individuals collectively saying "Wouldn't it be great to have a Skyhawk here in Tauranga!"
Second ingredient to bring a Skyhawk to town is
"Purpose"
. Classic Flyers NZ is committed to the collective Purpose of preserving insanely awesome pieces of New Zealand Aviation History within the hangars located next to the Tauranga Airport itself. From the day of it's inception the team of Aviation Enthusiasts never lost sight of the purpose behind the commitment to build an incredible Aviation resource for their local community to marvel at.
The Classic Flyers NZ Skyhawk Mission has required a ton of the third ingredient;
"Perseverance!"
The arrival date of this magnificent piece of Aviation machinery "Skyhawk" has been pushed back many times. Through thick or thin the team have stayed true to their
"Passion"
and
"Purpose"
and continued to
"Persevere"
to assure the community that the "Skyhawk" will indeed grace us with her presence. One final push had the team solidify the May 21st, 2012 date and the rest we say will be "Aviation History" .